Don't Settle for Less
Add 95% More Punching Power
Secrets of the "One Inch Punch"
Grandmaster began his martial arts training with Sensei Bob Alexander in 1963 at the YMCA in Gastonia, North Carolina. Sensei Alexander was very influential in leading him on the path to where he is now. Even though he taught Okinawa Karate, he introduced Martin to many esoteric styles that were never hear of in the US at that time (Pa Kua, Tai Chi, White Eyebrow kung fu, Great White Ape [tong bei] and more). Sensei Alexander was a student of Grandmaster Don Nagle. Nagle was a student of Soke Tatsuo Shimabuku, the creator of Isshinryu karate, who passed away in 1975.
Nagle passed away in 1999.
Sensei Alexander still visits Grandmaster Martin once a year to look at his progress.
In 1966 Martin was introduced to Sifu Sui Man Kuen (Alfredo Sui) by Sensei John Farris. Sifu Sui became his first kung fu teacher. Sensei Farris was his senior and an assistant instructor under Sensei Alexander.
Grandmaster Martin learned much about the art of Zen from Sensei Farris and assisted him at times in his dojo at Belmont Abby College until Sensei Farris left for the army. After his return, Sensei Farris became a student of then Sifu Martin at the Silver Dragon Kung Fu Academy on 7th Street in Charlotte, NC.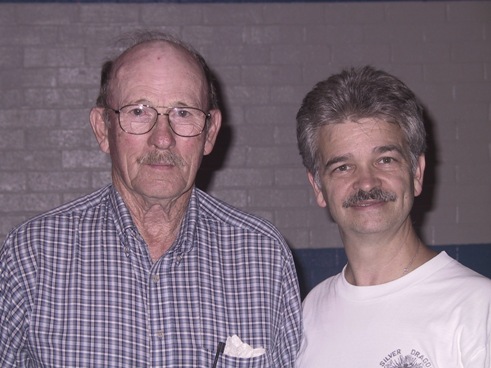 Sensei Alexander and Joe Martin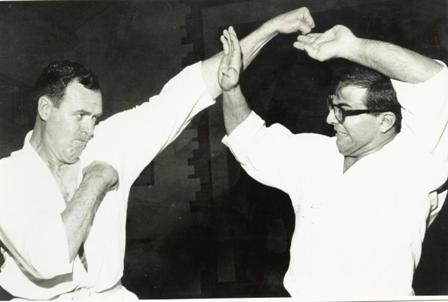 Sensei John Farris Blocking