These secrets of maximum explosive power were only taught to the successor of the style, not to the students at large. Since these secret principles were not visible, the teacher's super human abilities kept the students striving to reach his level. This kept the instructor on a pedestal and the students continuing to pay.

Everyone who has studied any style of martial arts has an awareness of chi/ki, but how many know how to utilize this universal energy. Can you feel it vibrating through your body? Can you feel the solidity of its unseen mass? You will; and in just minutes.

Ever seen these small masters being pushed from different directions and not able to be moved? It is secret grounding principles that are at the core here and it's not that difficult to learn. Even children can do it once they know the rules.

Our 10 power enhancements will allow you to effectively use techniques of your martial art style to its full potential.

Almost all martial art instructors I have seen are using only a small percentage of their full power potential. It's not their fault. These secrets were kept from most occidentals. Consequently, the true explosive nature of martial art power has been watered down to the point that power from the use of techniques taught in class are never used in a fight nor in tournament competition.
If you've ever been to a tournament, you have seen that the classical techniques of the style (blocks, strikes and stances) have been discarded. You find that practitioners who have spent years learning martial art skills revert to boxing and street fighter techniques when sparing. Why? Because they lack the secret knowledge required to generate the speed and power that must accompany martial art techniques for them to be effective in sparing or combat.

Are you aware that you can use the mass of objects around you to increase power? The ancient masters knew how to utilize the forces of nature as their ally through their belief in five element theory. Now you can too.

"Once mastered, the structural power principles you learn will always be present; they cannot be unlearned."

Call for special discount.

704 907-5735

For Tai Chi and Kungfu Classes Click HERE
Some science behind Speed and Power
All muscles of the body are comprised of both fast twitch fibers and slow twitch fibers. The muscles used for most movement are comprised of at least 50% fast and 50% slow twitch fibers. The muscles that are primarily used for quick action have more fast twitch than slow twitch fibers. Fast twitch fibers contract at about 1/20 of a second and are designed to reset their length quickly but become fatigued faster and therefore endurance is minimal. The deep stabilizing muscles, also known as the core muscles, contract at about 1/10 of a second and are designed for endurance. Aside from maintaining proper alignment with the force of gravity, our goal is to develop a strong core by letting go of the fast twitch muscle fibers through relaxation and to allow the slow twitch fibers dominate control of standing. This is something we almost never do in our fast-paced lifestyle. It takes tremendous control to let go of what has become our standard use of muscle tension. As an example, the two muscles of the calves, the gastrocnemius and the soleus are comprised of 50% and 67% slow twitch fibers respectively. The gastrocnemius attaches through the Achilles tendon and crosses the knee. It is used for running and quick movement. The soleus attaches through the Achilles tendon, but does not cross the knee and is used as a postural stabilizing muscle. By bending the knees when standing, we disengage the gastrocnemius and allow the soleus to do most of the work of holding our posture while simultaneously creating a more open and relaxed joint at the knees.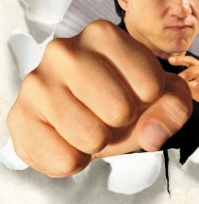 For example when we ride a bicycle, we keep our balance by the use of postural muscles. Our intent is to not fall down but we do not consciously control their operation in the way we can control voluntary movement. Conscious control would be too slow - before we could react, we would fall down. This is in fact what happens when we start learning to ride a bicycle - we start by using phasic muscles and through trial and error the postural muscles take over and we 'find our balance'. The same applies to keeping your balance when standing on one foot. It is our intent that keeps the postural muscles firing as a unit throughout the body to keep us from falling. This same science was known and used by the Ancient Master.
Another Secret: Once the body learns what your intent is, it will always react consistent with past experiences. We cannot "unlearn" how to ride a bike! Once mastered, the structural power principles you learn will always be present; they cannot be unlearned. Rather than using phasic muscles for certain types of power, you will be using tonic muscles. As you will learn, phasic muscles fatigue quickly!